BSJ and cats
I finished my first Baby Surprise jacket. I put I-cord all the way around, and I think I'm going to put attach ties instead of buttons. I still have to sew the top of the shoulders together, but I've been having so much fun handing it to people in its unassembled state and saying "Figure out what this is."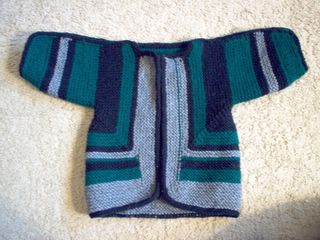 In our house, Moe is definitely a legend in his own mind. He was the first cat, and he believes he's the king of his own castle. Rambo, in the hidey-hole, just lets him keep thinking that...
When the birds come out to play, the mighty hunters (Rambo, Repo, Moe, left to right) wish they were outside. Of course, they would have no idea what to do if they actually WENT outside, but they can always dream...
The elusive Repo
Sparky the half-cat was *trying* to help take a picture of my Lamb's Pride sweater.
After a day of chasing air molecules around the house, Sparky and Moe are pooped