my fingerless gloves
This is the "prototype" pair - I'm really pretty proud of these. I tried several patterns, and they all pretty much sucked bilge water, so I designed my own. :-) I made them with Briggs & Little Canadian Regal from
Schoolhouse Press
(of course!) I used size 3 dpns.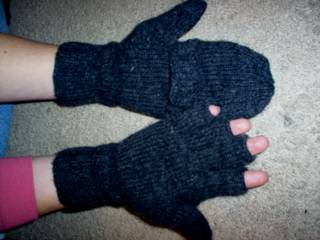 The big difference in my gloves is that I do NOT increase after I knit the ribbing for the cuff. No matter how I tried, the increase always made the palm of the glove huge. For thicker wool like this, *no* increase works the best. :-) The glove is nice and snug across my hand.
I'm trying to write down the pattern as I knit them, but it seems that I'm the only one that understands the directions! I'm most of the way through the 3rd pair now (only 4 more to finish before Christmas!), and I have "tweaked" the design a little bit from this pair. I start with size 2 needles for the cuff, and then switch to size 3 for the rest. I also changed the front of the "mitten" part - I am using seed stitch on fewer rows. Using ribbing seems to make the front of the mitten floppy.