Hand to Hand Sweater...the beginnings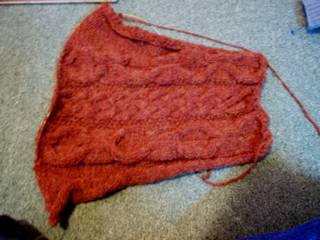 Not a very good picture, but you can maybe get the idea.
:-) I definitely need a better camera.
This is the sleeve of the Hand to Hand sweater from Elizabeth Zimmermann's Knitting Workshop. I had about 3 inches more than this done, but I frogged it back when I found a mistake in the center cable. The picture is deceiving; this is about 2" short of being to the top of my shoulder...it measures 17" long right now.
I'm knitting this in a beautiful bronzish/reddish
Highland Wool
. The wool is a tad scratchy for a next-to-the-skin sweater, so I'm *hoping* to steek this into a cardigan.